RLC-GTT wrote:.....it's here again: THE ALAMO!!! In living Technicolor and chopped to pieces!
So, just how many of you out there got to see it? Was it really furtherly chopped, as
Rich Curilla says?
I remember getting all excited about seeing the film again! I was 15 years old and
chomping at the bit to see it. It was listed in the newspapers as showing in two drive-
in theaters and the local cheapo-cheapo cinema, The Baldwin Theater in Baldwin Park,
California. But I couldn't convince any of my friends with cars to see it, so that only left
the Baldwin. By the day of the film's scheduled showing though, THE ALAMO lobby card
had been removed. The film was never shown. By 1967, Baldwin Park had become
predominantly Hispanic, so perhaps the theater had chickened out showing it. "Stinkin'
Rotten Baldwin!" I remember chanting over and over. "Stinkin' Rotten Baldwin!" (Years
later, actor Alec Baldwin would portray Alamo commander William Barret Travis in the
made-for-TV film, "13 Days To Glory".) A coincidence you say? Perhaps not...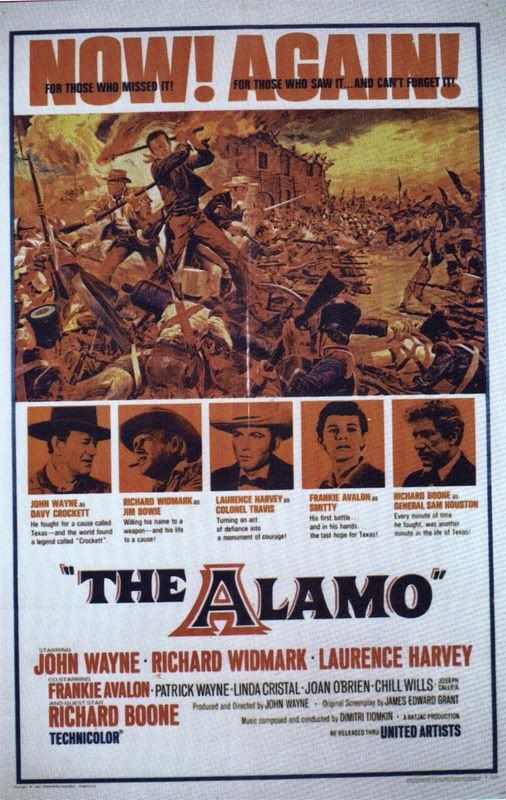 It would not be until 1969 when THE ALAMO first premiered on TV that I got to see it
again. On a 12 inch portable TV screen--- at the beach.